This Bible app contains the Holy King James Version with Matthew Henry's commentaries, a very useful tool that provides a complete and extensive verse-by-verse study of the Bible.
Download Bible commentary and enjoy reading or listening to the Holy Word on your phone or tablet.
Features:
– Download for offline use, without having the need to connect to the internet!
– It is free
– Audio version that allows you to listen to all the chapters and verses
– Smart user interface
– Bookmark verses and create a list of favorites
– Send or share them on Facebook, Twitter, SMS or email
– Easily search for a particular book or chapter with keywords
– Activate night mode that is extremely beneficial for reading at night
– Enlarge or reduce the text size
– The app automatically remembers the verse last read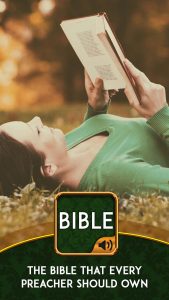 Your personal Bible reading for free! Download it now and enjoy this great mobile app to read the Bible on your smartphone.
Matthew Henry was a nonconformist minister and author born in Gales, United Kingdom. He had a great success with his remarkable book of biblical commentaries: Exposition of the Old and the New Testament (1708-10).
Henry's commentaries had a prestigious recognition of the most famous evangelical preachers such us George Whitefield, Charles Spurgeon and John Wesley.
Charles Spurgeon wrote: Every minister should read Matthew Henry's commentaries thoroughly and carefully at least once.
Download the complete Bible, containing 66 books:
The Old Testament is composed of 39 books:
Genesis, Exodus, Leviticus, Numbers, Deuteronomy, Joshua, Judges, Ruth, 1 Samuel, 2 Samuel, 1 Kings, 2 Kings, 1 Chronicles, 2 Chronicles, Ezra, Nehemiah, Esther, Job, Psalms, Proverbs, Ecclesiastes, Song of Solomon, Isaiah, Jeremiah, Lamentations, Ezekiel, Daniel, Hosea, Joel, Amos, Obadiah, Jonah, Micah, Nahum, Habakkuk, Zephaniah, Haggai, Zechariah, Malachi.
The New Testament is composed of 27 books:
Matthew, Mark, Luke, John, Acts, Romans, 1 Corinthians, 2 Corinthians, Galatians, Ephesians, Philippians, Colossians, 1 Thessalonians, 2 Thessalonians, 1 Timothy, 2 Timothy, Titus, Philemon, Hebrews, James, 1 Peter, 2 Peter, 1 John, 2 John, 3 John, Jude, Revelation.