Ben je op zoek naar een Bijbel in het Nederlands?
Welkom bij onze Bijbel-app! Deze app is helemaal gratis en geeft je offline toegang zodat je de bijbel overal kunt lezen. Daarnaast bieden we ook een audioversie van de Bijbel aan.
Belangrijkste eigenschappen van de app:
– Gratis, simpel en gemakkelijk te gebruiken
– Audiobijbel: zo kun je naar God's Woord luisteren
– Offline: beschikbaar wanneer je geen internetverbinding hebt
Je krijgt ook de mogelijkheid om verzen op te slaan, aantekeningen te maken en te zoeken op trefwoorden. Je kunt je eigen lijst van favorieten samenstellen of verzen delen via social media.
Pas het lettertype van de tekst aan of schakel nachtmodus in om 's avonds je ogen te beschermen.
Mis de beste app om de Bijbel te bestuderen niet!
Geniet van de Statenvertaling Bijbel, de eerste, officiële Nederlandse Bijbelvertaling van de originele Hebreeuwse, Aramese en Griekse teksten. Het vertaalwerk is verricht in Leiden in 1635.
De Statenvertaling Bijbel is verdeeld in twee testamenten.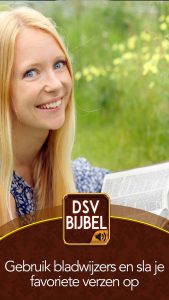 Het Oude Testament beschrijft de geschiedenis van de Joodse mensen en Israël, waarvan het grootste gedeelte werd overhandigd in het Hebreeuws.
Het Oude Testament bevat:
Genesis, Exodus, Leviticus, numeri, Deuteronomium, Jozua, Richtere, Ruth, 1 Samuël, 2 Samuel, 1 koningen, 2 Koningen, 1 Kronieken, 2 Kronieken, Ezra, Nehemia, Esther, Job, Psalmen, Spreuken, Prediker, Hooglied, Jesaja, Jeremia,Klaagliederen , Ezechiël, Daniel, Hosea, Joël, Amos, Obadja, Jona, Micha, Nahum, Habakuk, Zefanja, Haggai, Zacharia, Maleachi
Het Nieuwe Testament is het tweede deel van de Christelijke Bijbel en was compleet geschreven in het Grieks.
Het Nieuwe Testament bevat:
Mattheüs , Marcus, Lukas, Johannes, Handelingen, Romeinen, 1 Korinthiërs, 2 Korinthiërs, Galaten, Efeziërs, Filippensen, Kolossensen, 1 Tessalonicensen, 2 Tessalonicensen, 1 Timotheüs , 2 Timotheüs , Titus, Filemon , Hebreën, Jakobus , 1 Petrus, 2 Petrus , 1 Johannes, 2 Johannes, 3 Johannes, Judas, Openbaring
https://play.google.com/store/apps/details?id=bijbel.app.nederlands.gratis